If you can, we strongly advise you send us a well-fitted suit of yours and let our tailors take its measurements directly. Use the code TEST45 to get 45% OFF (starting $139), perfect fit guarantee and 365 days unconditional return.
If you can't send us a such suit, save your measurements in your personal account.

Where can I put all my measurements?
Please create your account on our website, in your personal space, take and save them in "My measurements".
Can I buy standard size suits?
Of course. You can choose your standard suit size, also in the "My measurements" section in your personal account.
To enter your personal account:

Look for this
(at the top of your screen, right corner). If you are not signed in, it is black,like this

if you already signed in, it is red, like this

Click it to enter your personal account.
When should I take my measurements?
You can save your measurements in your personal space before or after your order.
In your personal account, you will find this section "My measurements". Click the link.


The first step, we will ask you some basic information, like height, weight, age, and so on. Once ok, click the next button.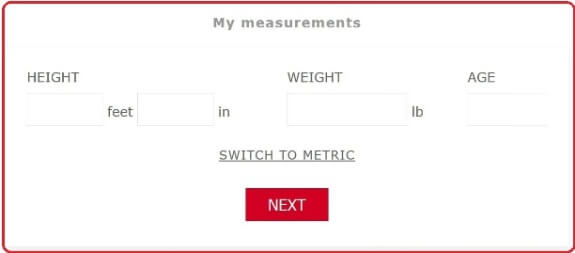 You follow our measurements guide steps, until you finish all the steps. Once all done, you will see a summary page like this:
In this page, you can check or even modify each mesurements.
How do we manage your measurements?
The final quality of a tailored suit depends on a lot of elements: The fabric and lining quality, the accessories' quality (buttons, stitching, etc.), the making quality, the measurements and the fit, etc. But when it comes to a tailored suit bought online, the correct measurements become crucial: because when you, the customer, have to provide them, their accuracy will determine you will at the end, satisfied or not.
Not every seller online handles your measures the same way. Here are more explications if you order from us.
Body measurements and garment measurements are different


One example: Let's say, your body chest is 40 inches. In this case, your jacket chest could not be 40 inches; it should be 42", 43", 44", or even bigger... (depending on the fit, slim or loose).
What you enter in your profile on our website are body measurements

On our website, each measurement we ask you to take should be from your body, not from one of your garment. In fact, on our site, you DON'T have a place to take and save your garment measurements.
What we do before we manufacture your garment

We create a pattern for your order. For example, for a suit. In other words, we use your body measurements, and our tailors'experiences, create a set of your garment measurements.


What we do with your pattern when your order is shipped

We save this pattern in our office. Not on our website, in your profile, but in our office, inside a big envelope (with your name and order number on it, of course). Please note: a pattern is a set of papers, not just digital numbers.


No measurements will be lost

For each customer, and for each order, we create (or modify) and save a corresponding pattern. So if you are satisfied with your first order from us, and you place a second order, you don't need to do anything about the measurements, anymore. You just need to choose your fabric, lining and style details and place your order; we will take care of all your measures.
Key to THE perfect fit: one step at a time


The fit of a suit or jacket, is all about adjustments: first time does not work? Alter it; if impossible to alter, do it again.
No perfect custom garments can be made with only one attempt, especially online.
One step, at a time.