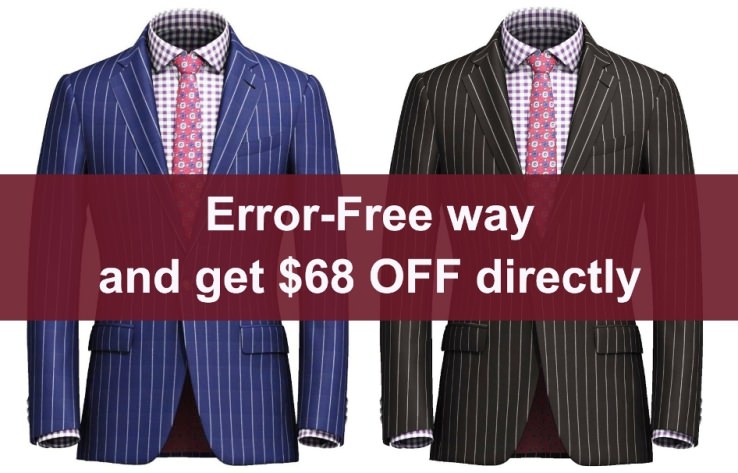 Promotion: Send us your well-fitted suit, get $68 OFF directly for any suit order
We would like to encourage our new customers to send us a well-fitted suit, and let our tailors copy its measurements.
By sending us a such suit, we will offer $68 OFF directly for your suit order. Save your order (just save, don't pay immediately), we will modify your order's price by applying this discount.
If your order already used other promotional codes, you won't have this $68 discount.
When it comes to custom made clothing, the right fit is extremely important; that's also the reason why we offer our unique concept "Free testing suit".
But if you think it is difficult to take your measurements (or you are not sure if you can get them right), here is another way:
Send us one of your well-fitted suits and let our tailors take all the measurements directly from it.
It is actually a worry-free and error-free method because you don't need to take any measurements by yourself (thus no mistakes). And the perfect fit is 100% guaranteed.
N.B:
* We will send the suit back along with your new made suit, in the same package (unless you send us a very old suit and you don't want it anymore).
* If you are in the US, we suggest that you use a postal service (with tracking code). According to our experience, the postal fee (to send us a suit) is about $15 to $35; and it only takes about 4 to 9 days to arrive.
* Don't worry: we will not disassemble your suit. We only need to take measurements from it.
If you are interested, please contact us at sales@ncgtailor.com for more information.