Once a week, NCG Tailor sends special offers to its newsletter subscribers, including promotion codes, big sales, and crazy prices.
For this week:
Suit remake option $29 in stead of $59!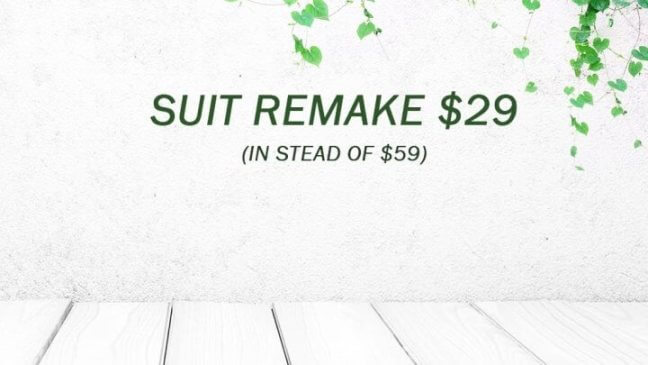 Promotion Description
1. For new customer: Suite remake option $29 in stead of $59.
2. If you are already customer: Buy a suit, get a free waistcoat or a pair of pants (same fabric).
3. Newsletters subscribers only.
NCG Tailor's statement
"Maybe crazy price, but never cheap quality"

• When it comes to quality, NCG Tailor is serious. We are fully aware that if our quality cannot make you happy, you will stop coming to us; plus, you will tell other people that we make cheap quality stuff. That is a dead end for us, and we will never do that.
• This offer is for our newsletter subscribers only.
For more details, please join our mailing list
(go to our homepage, there is a sign up form at the bottom)
PS: We use "Constant Contact" (one of the most famous and "anti-spam strict" email services in the USA) to manage our mailing list, so please rest assured that we will never do spam. And also, we have checked almost all the major browsers for our newsletter signup form, they all work correctly. But if somehow you cannot sign up, please let us know (email to sales@ncgtailor.com), we will sign up for you.