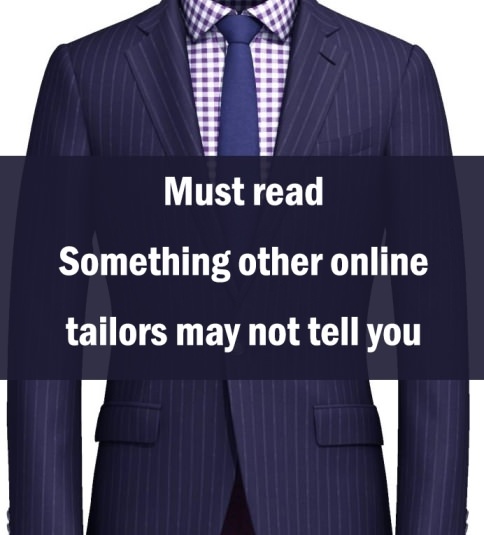 If you are looking for a standard size suit (not made to measure), you can just pick a size in your personal account on our website (once signed up), and this article may seem irrelevant to you.
One day, you find a beautiful tailoring website with 3D design; tons of fabrics and easy-to-follow measuring method; you enter your measurements and you configure your suit. Wow! It only costs $200! Then you sit back and wait for this super custom tailored suit to arrive.
Well, in our opinion, this could be a good way to waste $200, for…Nothing. We say "could be", because sometimes if you are lucky, this suit could still be wearable even very good. But sometimes, you will pay $200 for…nothing but frustration. The risk of ill-fitting is pretty high.
What happened? Why?
- "I am sure I have checked my measurements twice, they are all good"

- "This must be the problem of the tailors. They are incompetent".

You might say.

Well, sometimes it could be, you simply trusted your money with some bad tailors; but in most cases, that's because you put all your hope on your first test…well, you shouldn't, because that's not logical.

Without testing, no guarantee - That's logical
If you are a chef: you need to test your new recipe with a small group of people, before offering it to everyone.

If you are a marketer: you need to test your new product before large-scale commercialization.

If you are a scientist: you need to run tons of tests and calculations to support your conclusion, before publishing your article.
It is the same logic: "you provide body measurements, a tailor transforms them to suit measurements and then uses them to make a suit", this process needs to be tested. Perfect for the first time? Very unlikely, no matter how confident you are with your measurements.
Logic supported by our 10 years of experiences in the European Market
We are pretty new in the US/Canada/Australia market, just 15 months, however, we have been in the European market for more than 10 years.
10 years + more than 40000 custom tailored suits sold + 1.45% return & refund rate.
All the statistics show that with a second making, the satisfaction rate can go up to 97%. And we are not talking about "it is ok" that kind of satisfaction, but "really pleased" that kind of satisfaction.
A very common misunderstanding among all our customers is that "new customers systematically assume that if they take carefully their measurements, a perfect fit should be guaranteed" even for the very first making. This might be the right assumption if you are with a local tailor; but online, hardly. Nowadays we can find hundreds and hundreds of online tailors, but very few will try to tell you that this assumption is wrong.

We try to sell by persuading you by logic
That's why we firmly believe that our Free testing suit option is very important : a second making means the possibility for testing. That's logical.
We do not like very much fancy website design or 3D design, because as beautiful as they could be, what you see is very probably not what you receive in the end if the fit cannot be tested.