NCG Tailor's point of view
A - Why do you need a waistcoat, or not?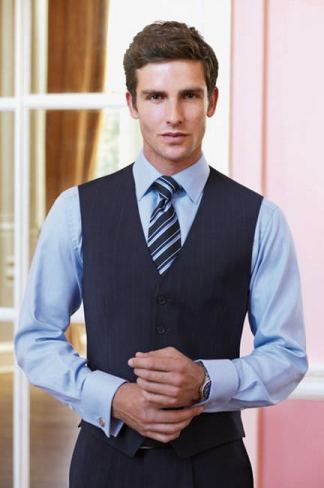 Photo source: michaeljaytailoring.com
A waistcoat is not a must to any man's wardrobe. A well-fitted two-piece suit will work just fine for most gentlemen.
However, if you choose or custom tailor a waistcoat correctly, it can serve as an excellent complement to your formal or casual suits, especially for formal ones. It can also "change" your body shape, gives you a better look, like wider shoulder, smaller belly, and also cover the wrinkles of your shirt, and so on.
In American English, a waistcoat is also called a vest. In this small purchase guide, we consider they are the same thing. However, we do prefer the word waistcoat, because it is a coat you wear to cover your waist. Makes more sense.


B- Waistcoat purchasing and tailoring advice
The following buying advice might be useful for both made to measure vests or ready-to-wear ones, online or not.
Waistcoat's fit

This is important: Whether you are buying a ready-to-wear waistcoat or have it custom tailored, its fit is crucial. Not only because not fitted waistcoat will make you look boxy in it, but also, there will be no much room for a tailor to alter it.
Unlike a jacket, on which a tailor can do a lot of different alterations, a waistcoat is a much simpler thing. No sleeves, no collar (some waistcoats can have different shapes of collars, indeed, but that's not our point here), no back vent, and normally it is much closer to your body (which means very little room left for a tailor to change its length or width).
So rule number 1: Always choose, or cut your waistcoat to the most fitted. Don't rely too much on post-alterations.
Waistcoat's back
There are two types of waistcoats' backs: with lining or with fabric (the same fabric as the front). The waistcoat back with lining is often considered more fashionable, especially when you are configuring a 3-pieces custom-made suit online and you choose a beautiful lining for your jacket and the waistcoat's back (but please do make sure you pick the exact same lining for both jacket and waistcoat).
We, on the contrary, would like to offer the waistcoat with self back (the back has the same fabric as the front). According to our experiences, a waistcoat with self back is much more robust than a lining-backed one. Not only because the lining is more fragile than a wool cloth, but also it is much easier to sew and fix the front and the back piece firmly together when they are both on a wool material.
So on NCG Tailor, without your specific request by email or by phone, we will make the waistcoat back on wool fabric (the same cloth as the front).
Please note that to use a wool fabric instead of a lining, we are spending more money (because the wool is much more expensive than a simple lining cloth). But we think that's totally worth it, for your satisfaction.
Waistcoat's length
Believe it or not, how to find the right waistcoat length is much trickier than you think. The most important rule is that your waistcoat should completely cover your pant's waistband. When we say "completely," it means no shirt showing, no pant's waistband showing.
But not too long, that's also pretty important because a too long waistcoat looks very redundant. Anyway, a good waistcoat for you, regarding size or measurements, should be reasonably close to your body and should have the just right length.

Waistcoat as the third part of your suit

1. Styles should match, generally speaking. For example, if your suit jacket has slanted pockets, it will be better also to choose slanted pockets for your waistcoat.

2. Fabrics should match. Well, this is extremely important: for a formal business suit, the vest material should match exactly your suit. When we say exactly, it means you should never choose your waistcoat cloth that is slightly different from your suit fabric. The color should be the same, and the pattern should be the same; anyway, use the same material. Or, for some casual occasions, you can choose a piece of fabric that's entirely different from your suit's cloth (make sure contrast enough). But in that case, you need to be crystal clear about what you are doing: a good match could be a plus (even though it will definitely lower the suit's formality, it could be good looking); a wrong match will ruin the whole elegance of your suit.
C – Waistcoat dressing advice
Leave the bottom button undone.

A lot of people will tell you that there is no particular reason for this, it is just the tradition. But according to our experiences, the bottom button left unfastened could also be practical, especially for those who have a round belly. Think about it, when you sit down at a table, it is normal that you unbutton your jacket, but it will seem odd that you start to unbutton your waistcoat. So always leave it undone.

Your waistcoat, your suit jacket, your shirt, and your bowtie
1. Your waistcoat should never cover your shirt collar.
2. Your waistcoat should cover your shirt bottom completely.
3. Your suit's jacket (when buttoned) should never cover the whole waistcoat's top.
4. Your waistcoat should leave enough space for your bowtie.
Double-breasted suit jacket? Forget the waistcoat

Unlike a single-breasted suit jacket which can be unfastened all the time, a double-breasted jacket should always be buttoned for the sake of formality. Think about it, you already got two layers of fabrics in front of your chest (that's what double-breasted jacket means, right?), and with a waistcoat, you add a third layer. It might look bulging, and you might feel difficult to breathe.
For most of our customers, NCG Tailor will recommend that no waistcoat with a double-breasted suit jacket. There are exceptions, we know, but that's totally up to you if you know exactly what you are doing.